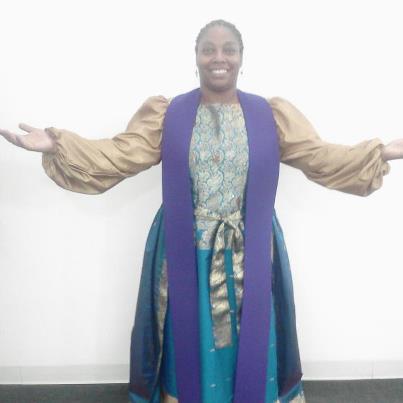 Renee is a well experienced dancer, instructor, and choreographer. She was born in Chicago, IL, where she received extensive training in the arts. Renee trained under the auspices of the late Shirley Hall-Bass at Sammy Dyer School of the Theatre. Her training included: ballet, classical ballet, tap, jazz, modern jazz, and gymnastics. She began teaching there at the age of 14. Performing in annual dance musical revues and participating in the cultural exchange programs with their sister school, Bahamas School of Dance, made Renee an asset to the school.
Renee's gifts and talents began to grow spiritually under the leadership of Bishop Edward Peecher and Prophetess Katie Peecher of Chicago Embassy Church, formerly known as New Heritage Cathedral in Chicago, IL. As she faithfully submitted to the leadership of her church, numerous doors for ministry were opened. Renee has choreographed and danced for women's conferences, pastor's wives appreciations, church anniversaries, prayer breakfasts, weddings, funerals, and revivals. She has also created dances for a local Christian television station in Chicago.
God has truly anointed Renee to express His spirit of deliverance and healing through dance. She is using her gift to teach others. Renee is founder of Praise Party School of Dance in Anchorage, AK and Chicago, IL. The Alaska school began in November 2002 and the Illinois school began in December 2005. In October 2006, Renee graduated with a Minister of Dance License from the Eagles International Training Institute, under the leadership of Dr. Pamela Hardy and became the Illinois Director. She has completed 2 years of the Prophetic Institute under Prophet James Hernandez. In June 2010, Renee received her BA in Religious Fine Arts and is pursuing her Masters. Praise Party School of Dance, Dallas, TX has just begun in December 2010.

On Sunday, February 3, 2013, Roderick and Renee were ordained into their God-given five-fold ministry gifts. Bishop Edward Peecher installed Roderick as a Prophet and Renee as an Apostle. They plan to create a training ground for others to be thrust into their gifts, callings and anointing.

Renee is a member of Word of Peace International Ministry in Grand Prairie, TX under the leadership of Pastors Frank and Latisha Manu. She is also Founder of Praise Party School of Dance in Anchorage, Alaska, Chicago, Illinois and Dallas, TX. She is using her gift to teach and mentor others. She is the devoted wife of Roderick Gray and mother of three: Ryan (21 Rachel (18), and Rebecca (17).

Contact Apostle Renee Gray: renee@praisepartyschool.com