2016 is going to be the year that we will see and experience God's SUPERNATURAL ABUNDANCE! God desires that we all be whole; spirit, soul and body.
He needs us to let go of some things:
1 Thessalonians 5:23
Now may the God of peace Himself sanctify you completely; and may your whole spirit, soul, and body be preserved blameless at the coming of our Lord Jesus Christ.
We will be reading "The Ties that Bind" by Brian Holmes.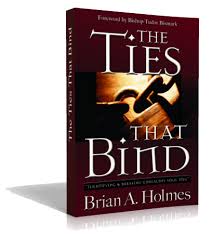 We will begin on Monday, November 23, 2015
There will be 4 conference calls on Sundays at 6pm CST or Mondays at 7pm CST(tentative).
Sundays -Nov. 29th, Dec. 6th, 13th & 20th.
Mondays -Nov. 30th, Dec. 7th, 14th & 21st
There will be homework and we will have discussion questions on the conference call.
IF YOU ARE INTERESTED - SIGN UP NOW